As the snow slowly starts to melt, things in our household are heating up as we prepare for our big trip for the season. Every year we try to take at least one bigger trip but this year has been full of a lot more weekend getaways as we explore our new state. This past summer we traveled to Cape Cod and Martha's Vineyard for a long weekend and had a great time checking out some of the most in-demand beaches in the country and eating lots of ice cream (Cape Cod is saturated with ice cream shops. Almost all of them make everything on site so the finished product is absolutely divine).
One of many, many photos of us eating ice cream from various parlors around Cape Cod
Since Logan has been so busy with his intern year we thought a relaxing trip would be the way to go so I researched for weeks to find a romantic lake cabin. I had the criteria of semi-remote location, lake view, hot tub, and fully equipped kitchen (we love to grill and cook throughout the trip). It took me a while to find the perfect spot but I finally "found the dot on the map" (that's their slogan) and was overjoyed to book The Quiet Place on Canandaigua Lake- one of the Finger Lakes in upstate New York. They have several different options for cabins but we fell in love with the view from the Naples Chalet. Check it out, they look so nice and I bet it will be so romantic.
Our cabin website:
The Quiet Place
Apparently Naples is the grape capital of the world and the home to Grape Pie. It is suppose to taste a lot like blueberry pie and I am excited to sample the unique deliciousness.
We booked for a week but then we found out about a Ice Wine festival (lots of free ice wine and tasty treats to go along with it) at the New York Wine and Culinary Center just a few days before we go so our relaxing, romantic lake weekend got a bit bigger...
We decided that we would drive up to Canandaigua for the festival and visit some friends in Rochester for a night then Logan pointed out that Rochester is so close to Niagara Falls (about a 2 hour drive). After a bit of research on Niagara Falls we decided to go for it, you're only young once right? Now we are spending a day in Niagara before heading back down to the Canandaigua area to enjoy our lake trip. Niagara in the winter is said to look absolutely beautiful and this will be my first time seeing the amazing falls. Apparently during the winter the mist from the falls will freeze the trees nearby creating a vision of water and ice.
From CanadaCool.com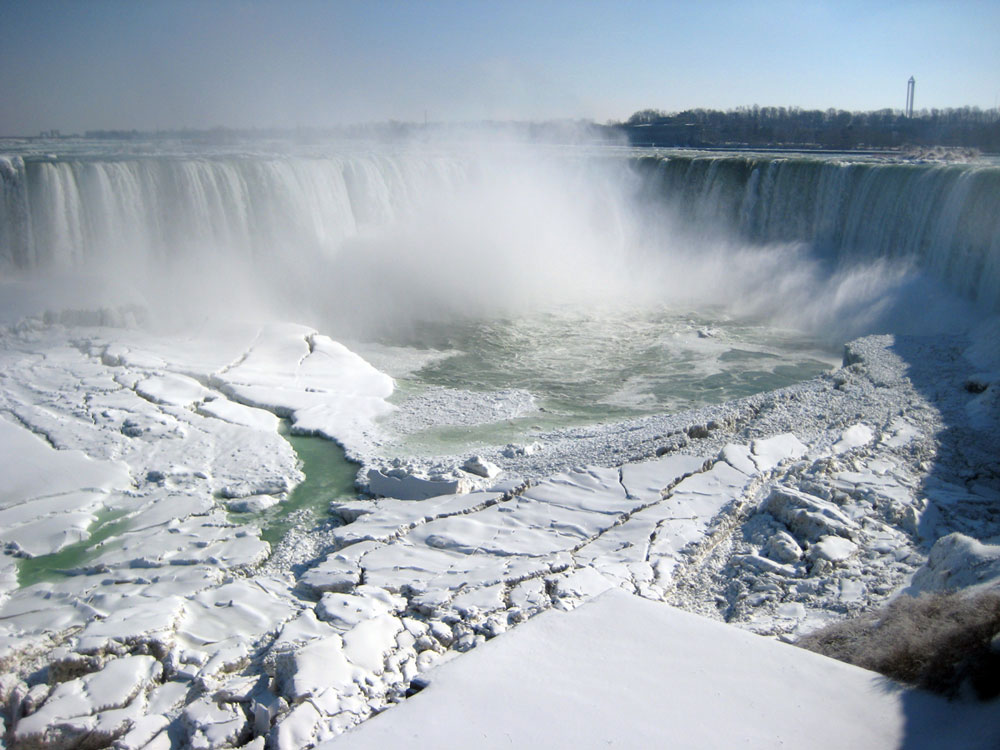 Photo from:http://www.photography.ca/Forums/attachments/f32/5853d1267392844-niagara-falls-ontario-canada-5.jpg
We are planning on heading into Canada for the night (yay for another passport stamp!) and stay at one of the hotels with a view of the Falls. We have been told that a view of the Canada falls is better but the American view has a cool lightshow at night. We haven't settled on a hotel yet because we are messing with the details but I will definitely take tons of pictures and post them here.
I am huge fan of taking some time away with your significant other, friends or simply by yourself. It is a wonderful chance to reconnect, relax and enjoy your beautiful surroundings. Also, I also really like researching before heading off for a trip. I had not done this much in the past and then when Logan and I spent three weeks in Europe we used Rick Steve's guidebooks. They were incredibly helpful and I felt that it helped find great restaurants, we got some history on what we were visiting, and also saw some off the beaten path sites. For example, I had been to Paris before but I had never heard of the Alpine Garden in Les Jardin des Plantes and it was one of the most beautiful places I have ever seen.
For this trip, we have combed through many books on the Finger Lakes and now, Niagara Falls to find the most delectable eateries, greatest places to hike and most beautiful views. I hope all our research pays off but I am just so excited to get away with my wonderful husband and share a cool new experience with him.
Happy Trails,
Steph